Note: If you do not have a high speed internet connection, it will be necessary for you to click on the "Refresh" button on your browser each time the pictures stop loading to keep the process going. Keep doing it until all of the photos are complete to the end. It may take quite a long time and many clicks to load all of the photos. High speed connections load everything in a minute or two.

| | | |
| --- | --- | --- |
| | Our Helicopter Vacation | |
Saturday, August 2, 2003
My wife Karla is one of the most organized people I know. She did an incredible job working out all the details of our last vacation. It worked like a Swiss watch. This trip was to be a bit different, but no less of a logistical puzzle to solve. I thankfully, I was in capable hands. A helicopter vacation? Are we crazy? Yes, but thank God this is America and we can be crazy if we want. A few days of gathering maps, charts and books on what to do, and we were ready. A visit to the Auto Club, and a brief stop at the Pilot Shop at Orange County Airport was all it took in the map and chart department. Not having done much VFR flying lately, I thought it proper to get current navigational charts to avoid any unwelcome surprizes along the way.
As far as the flying end of things, they really got started the day before departure. I went over to Chino to help install the newly painted rotor blades. I was not the brains behind the operation, but I did feel that an extra pair of hands would not hurt. I helped hang the blades, and gave the aircraft a sponge bath, with special attention devoted to the windows. It was a lot like work. Chris, the guy in charge of hanging the blades is both a helicopter pilot and mechanic. He was pleased with the initial guess on the balance. After a few test flights and some minor tweaking, the helicopter was dialed in quite nicely. At 10 pm, I left Chino headed for Long Beach. Cruise was 132 knots with light winds from the west. Approaching Long Beach, I sighted a Hawker Jet on final for Runway 30. We were at the same speed. What a rush. My wife drove to the airport to bring me home along with two suitcases I brought. We needed to see if they fit in the baggage compartment. The rear seat back had to be removed to install them, but they fit fine. Many of the former military Gazelle helicopters don't have a baggage door. The rear seat back was the way to the baggage compartment. With that part of the puzzle solved, it was time to press on for home, and fill those suitcases with our stuff as not to be delayed in the morning.
It may seem a bit odd to take a helicopter on such a long flight. After spending most of my travel time at or above 41,000 feet, I thought some low level stuff would be a welcome change. I also thought the family might find it to be quite an adventure. I was right! This was the chance of a lifetime, and I knew it. Whatever else happens in our lives, we will never forget this trip. Mischa, our family dog, is the only one who is going to miss out on the fun. He will be serving a week in "Jail" at the local kennel. We did, however, take him out for a cheeseburger at the patio section of our local breakfast hangout. He completely enjoyed that, not knowing what was to come. One weeks confinement without possibility of parole. We thought about getting him a tin cup to bang on the bars in protest, but never got around to it.
Sunday, August 3
The Weather looked like it was going to cooperate. At about 08:15 AM, I informed the kids to remove their asses from their beds and get in motion. Karla was on the back patio with a Diet Coke in one hand, a cigarette in the other and a phone in her ear, nothing new here. She was having a chat with her brother Ross.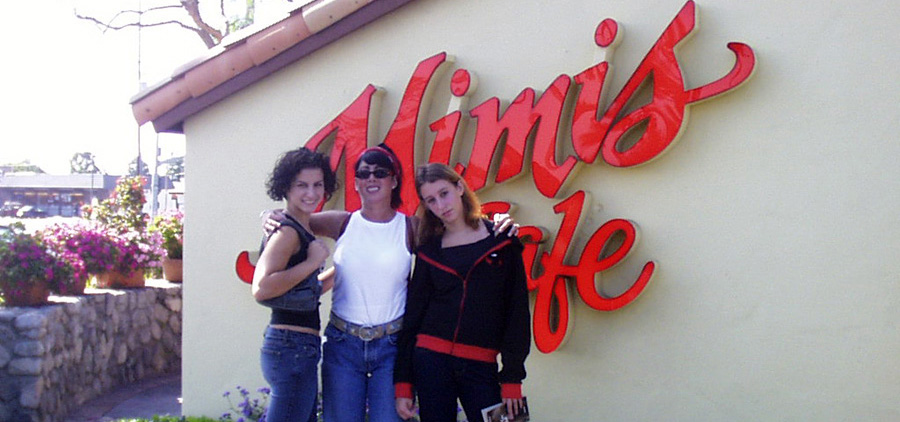 Rally The Troops for Departure
The plan is to have a morning snack at Mimi's, then press on to Long Beach and depart. The first stop will be Santa Barbara, for lunch at the Elephant Bar restaurant. From there, on to San Luis Obispo for a splash of fuel and a quick break. Monterey was where we would spend the night. I had not decided if I would cross LAX, or go the downtown route on departure.
At about 11:00 AM, we arrived at Long Beach, Millionair at Aeroplex. This was our official departure point. Loading the baggage revealed that Karla must have carefully studied the book "Packing for Vacation" by Imelda Marcos. After some painful prioritizing, some stuff was left in the Trooper at the airport. The video camera was the one thing that was left behind that really should have been taken. That turned out to be a major mistake. Karla was to endure this trek with only one set of formal wear and barely ten pair of shoes; kind of like camping.
A gnat could not have spread it's wings in the baggage compartment. The kids had several bags in the back seat as well. Alexa parked the car, and we began to convert Jet A into noise and wind. With all that stuff aboard, hot day, max gross weight, the Gazelle lifted off with no trouble. About 87% torque and we were airborne. We got to 65 knots westbound, then made a left 270 degree climbing turn around the tower. We leveled off at 500 feet and headed north. Downtown L.A. was soon a mile to our right. We passed north of Santa Monica, then proceeded northwest along the coast at 500 feet, bound for Santa Barbara.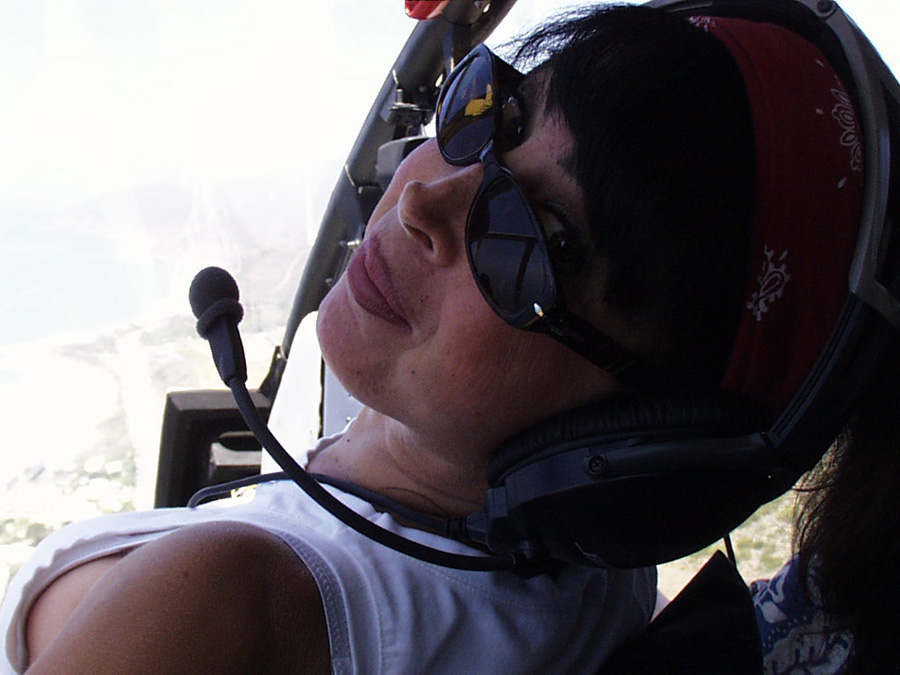 The Only Way to Fly
The view was breathtaking. You see so much more detail from 500 feet than my normal 45,000 foot vantage point. With L.A. behind us, we continued up the coast past Malibu, then inland a mile or so to avoid the restricted areas southwest of Pt. Magu. Just south of Oxnard, we turned west, back to the coast to complete the first leg of our journey. An hour after liftoff, we were on the ramp at Santa Barbara, right next to the Elephant Bar restaraunt. It is definately on the high end of the food chain when it comes to eating establishments at airports.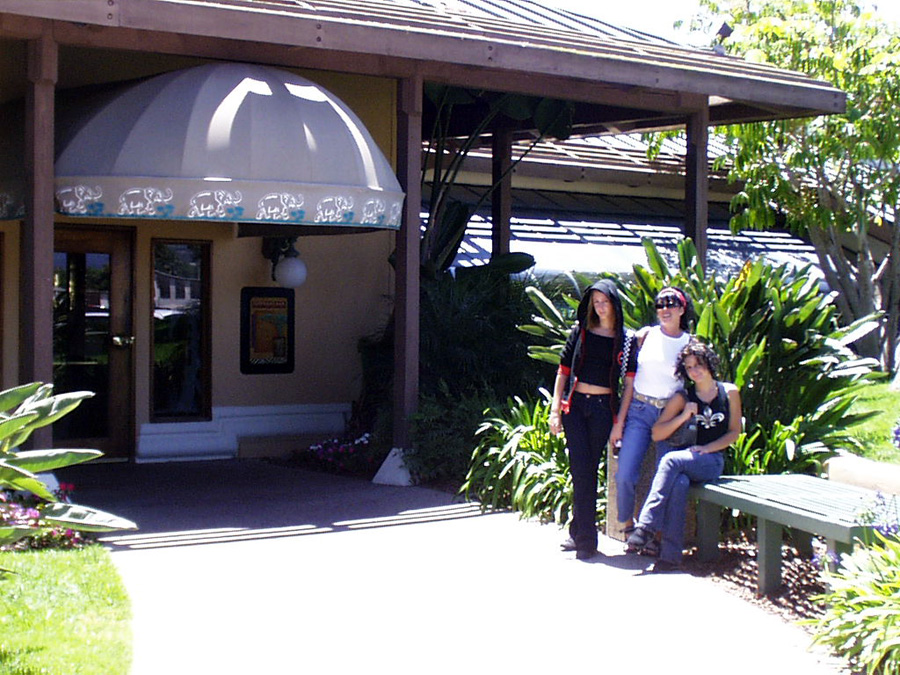 The Elephant Bar
As this was a "stop and smell the roses" trip, lunch was in our immediate future. After a few minutes, we got a table outside and lunch was served. It was very noisy, as there was a Quarter Share airplane running it's APU a couple of hundred feet away on the ramp. He finally departed the scene. Nobody mourned his absence. The new found quiet was a welcome change.

Having eaten our fill, we put on enough fuel to wave the landing fee at Signature SBA. Imagine paying $3.38 per gallon for kerosene, knowing that they buy the stuff for a buck or so a gallon. No price gouging here. At least the service was good and they were very nice folk.


Our Transportation on the ramp at Santa Barbara
We were once again on our way. At 500 feet and 120 knots (140 mph) along US 101, the view was spectacular. Soon we had a choice, go through the mountain pass and head for San Luis Obispo, or fly into the Vandenberg missile range. We took the mountain pass. This route made it less likely that we would get shot down or arrested before our vacation really got started. The pass opened up on the north side, taking us over some very pretty farm and ranch country. After passing Morrow Bay, we turned right and headed inland toward the San Luis Obispo Airport.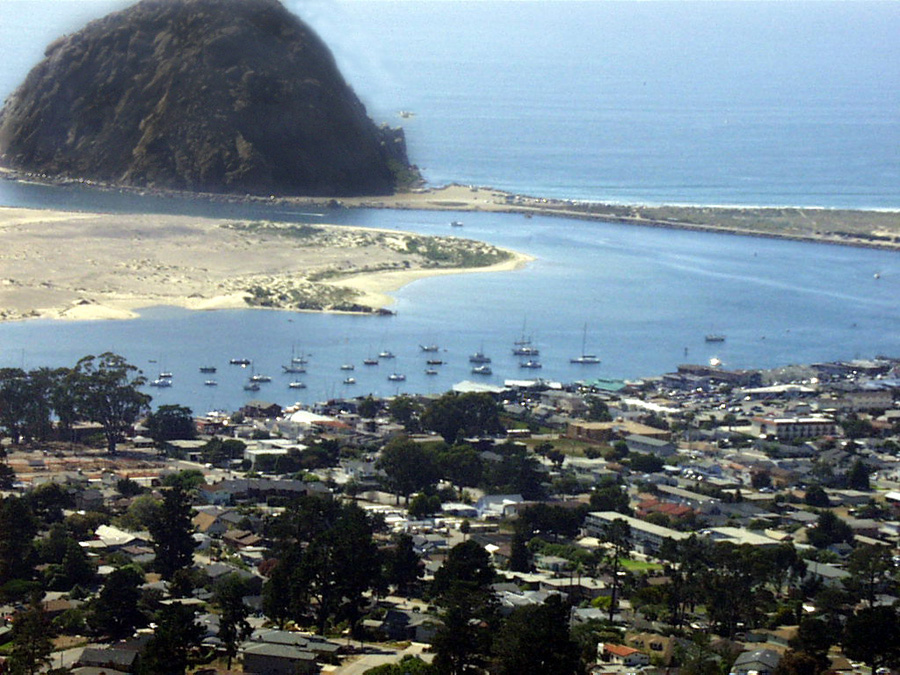 Morrow Bay
A stop was in order for bathroom, soda and to top off the fuel tank in preparation for the leg to Monterey. Now full of Diet Coke and fuel we were on our way again. This was to be the longest leg of our northbound journey. It took us along the coastal mountains. We definitely found the best way to see Big Sur. We stayed just a bit inland as not to invade the sea lion habitat and risk pissing off the tree huggers, who probably hate us anyway because we eat animals and have an internal combustion engine. Oh well! We flew through the Hunter Ligget MOA when it was reported as "Hot", and did not see so much as one military aircraft. MOA's are not restricted airspace. Just be aware, keep you head out of your ass, and look for traffic like you should anyway.
The view got better and better as we approached the Monterey area. An aireal view of the famed 17 mile drive beats anything you can see from a car. I love cars, but the view from a car just can't compare. There are some fantastic homes and some major league resorts in that area. Quite a sight indeed.

After an hour or so, the Monterey peninsula loomed large in the windshield. A right turn around the point and a brief conversation with Monterey Tower brought us in from the west, right by the wharf, and finally to the airport. The view just kept getting better. Million Air at Monterey had a rental car waiting for us. We took apart the puzzle that was the baggage compartment and we were off to the hotel. The Clarion we stayed at was real basic. It had a view of the parking lot from a tiny balcony, but it did serve the purpose. This was just a road stop, and all we needed was beds and a shower anyway. That we got, nothing more, nothing less.
Monterey is the capital of "You can't get there from here." Ground navigation was a bit of a pain. It was an obvious case of more paving than planning, however we ultimately did find our way.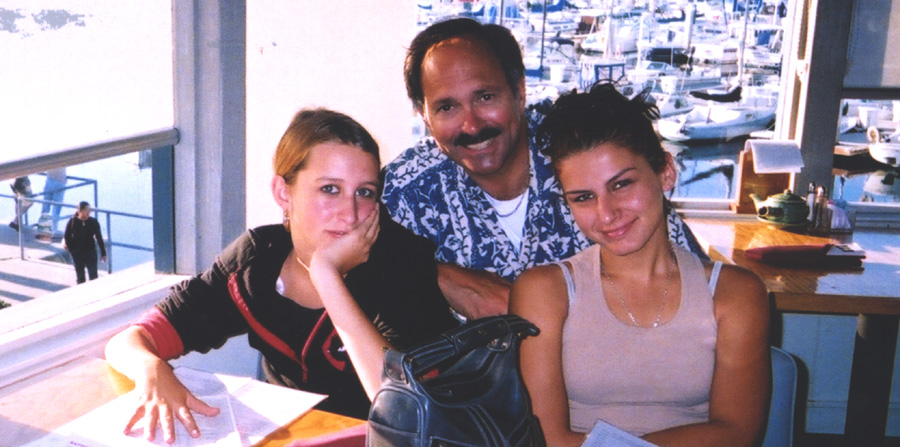 Dinner
We found a great restaurant at the wharf. Saporo had just our style of dead fish. Sushi is quite popular in our family. It was not cheap, but it was delicious to the last bite. Left overs? Not a chance! Those fish did not die for nothing. A nice walk around the wharf to see the sights and we were on the way back to the Clarion to pass out until morning.
Monday, August 4
Breakfast at Margie's Diner was a real treat. The food was great, and the people were very pleasant. It was just what we needed before we proceeded to the aquarium then northward to San Francisco.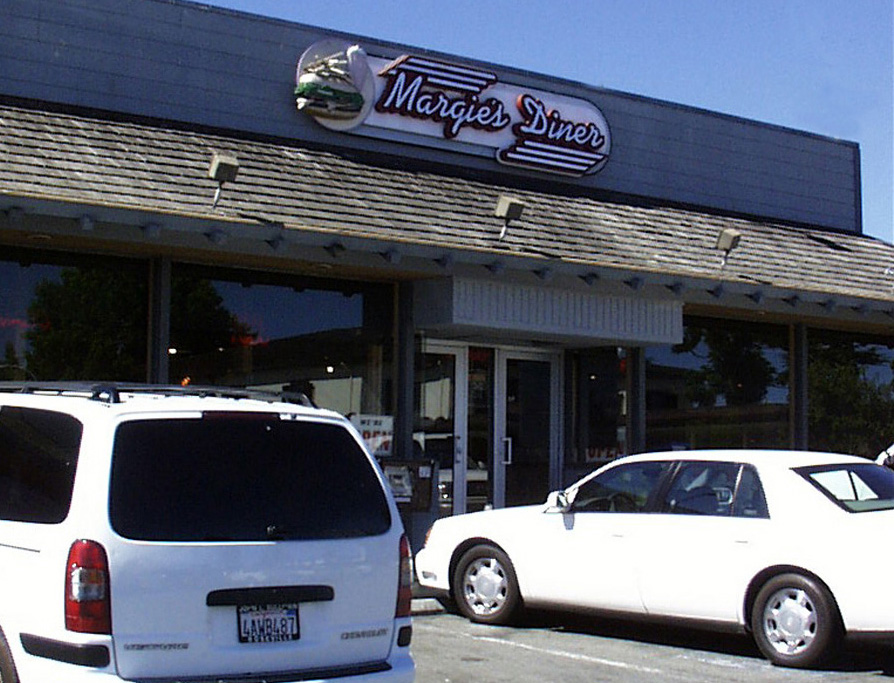 Margie's Diner
The folks at Million Air Monterey gave us passes for the aquarium. The Monterey Aquarium is about the best one I have ever seen. Karla loves the "Moon Jellies", and always says that if we were rich, she would have a tank of them in our living room. They are very cool.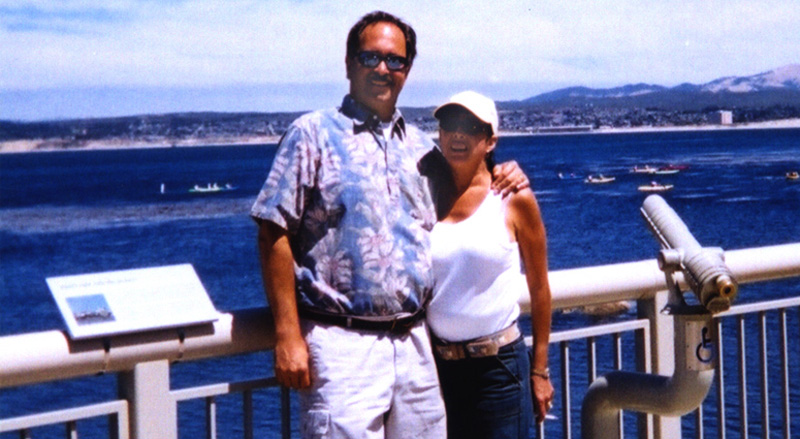 Being Tourists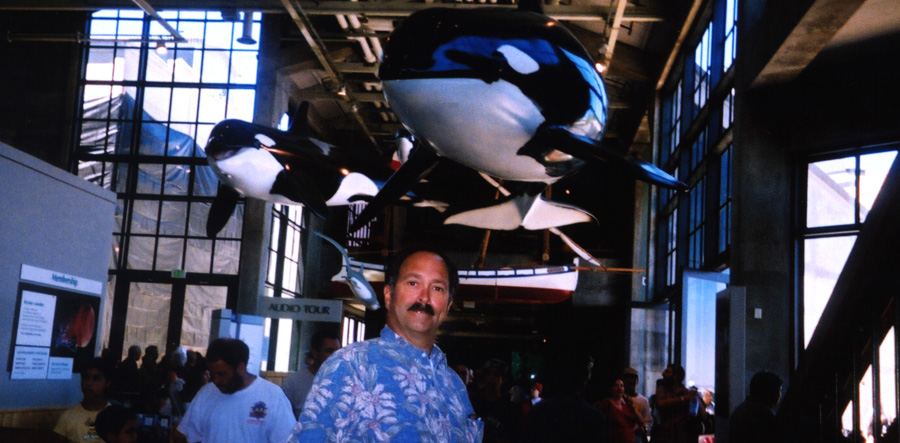 Big Fish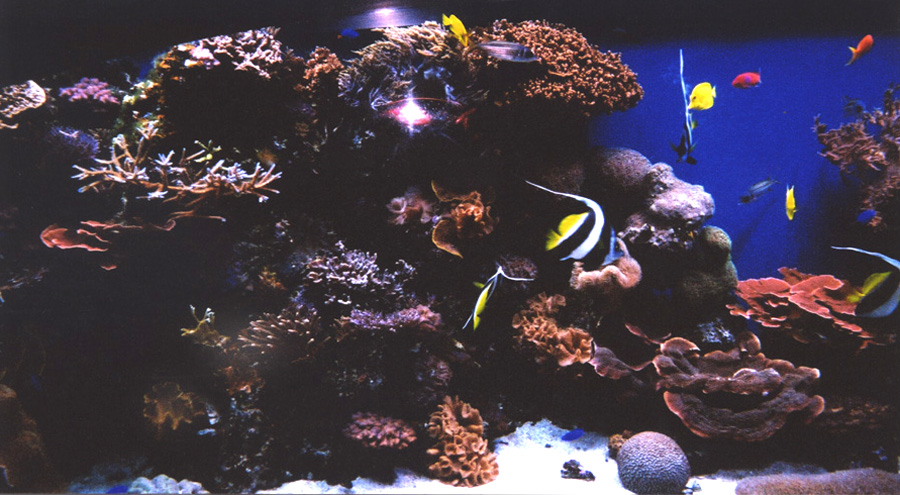 Little Fish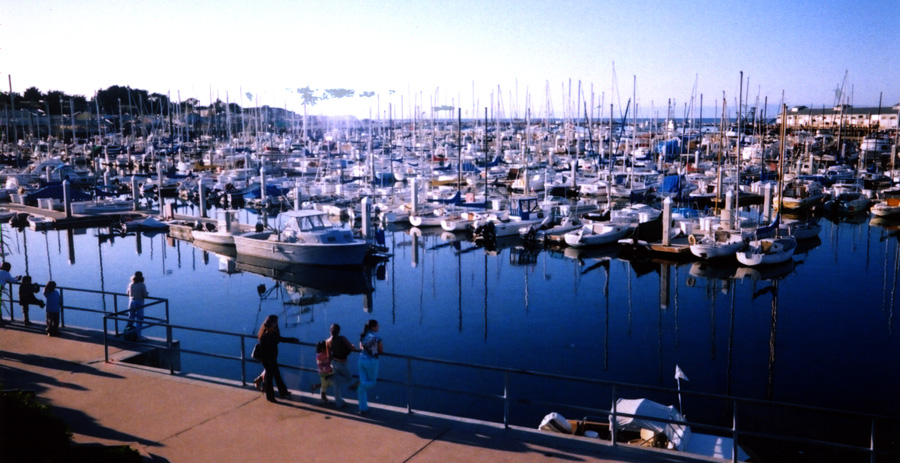 Monterey Harbor
Having seen the sights, we were off to the Monterey Airport. Upon arrival, I noticed a familiar airplane on the ramp. Danny, son of Domenic, with whom I fly, was hanging out at the airport waiting for his passengers to show up. After a brief chat and some pictures we were in the air headed up the coast bound for San Francisco International Airport.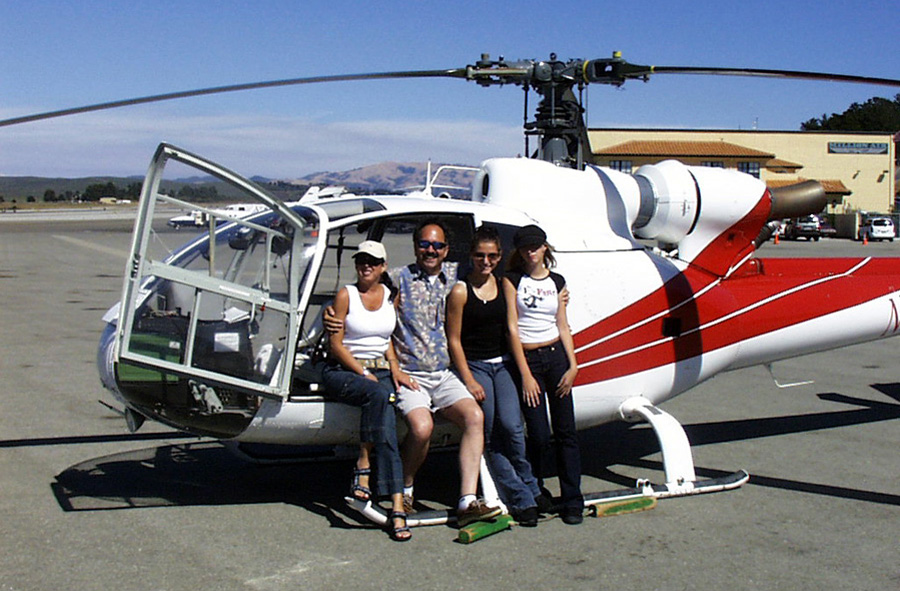 Ready to Depart for San Francisco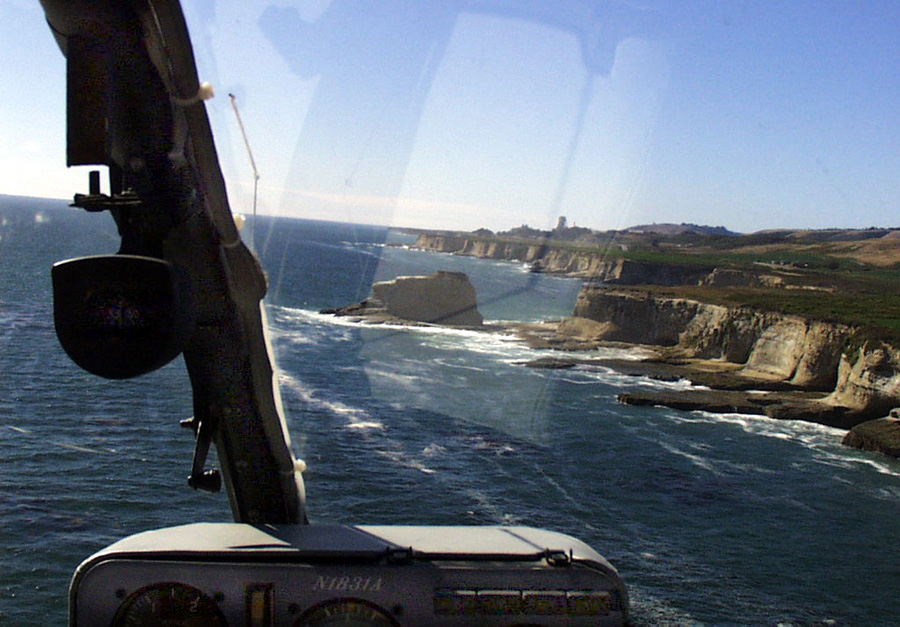 Up The Coast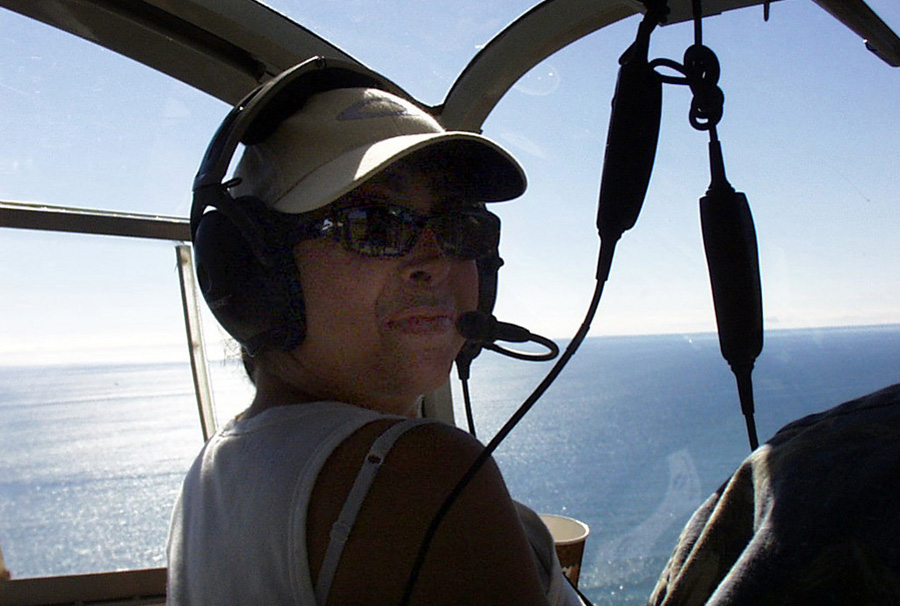 I wonder what the poor people are doing!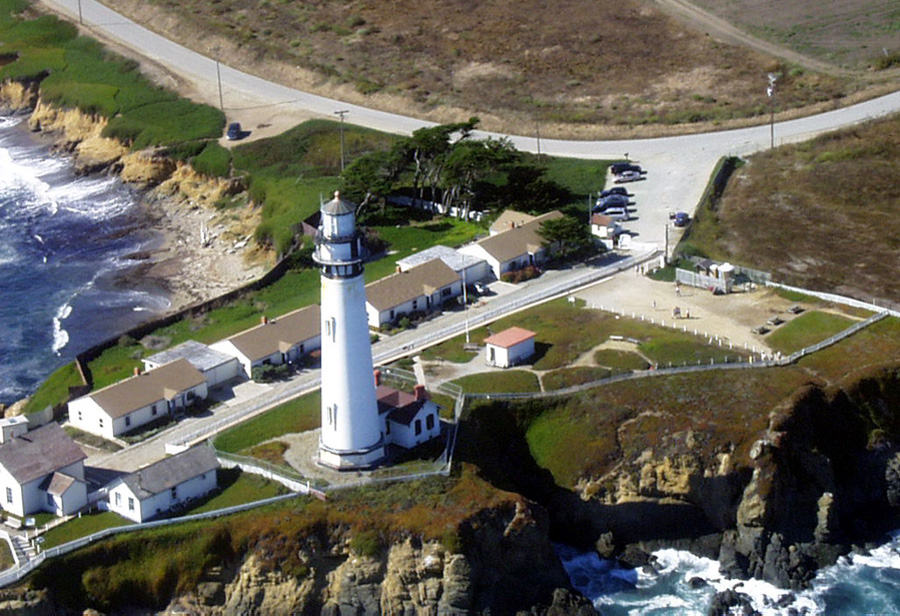 Along The Way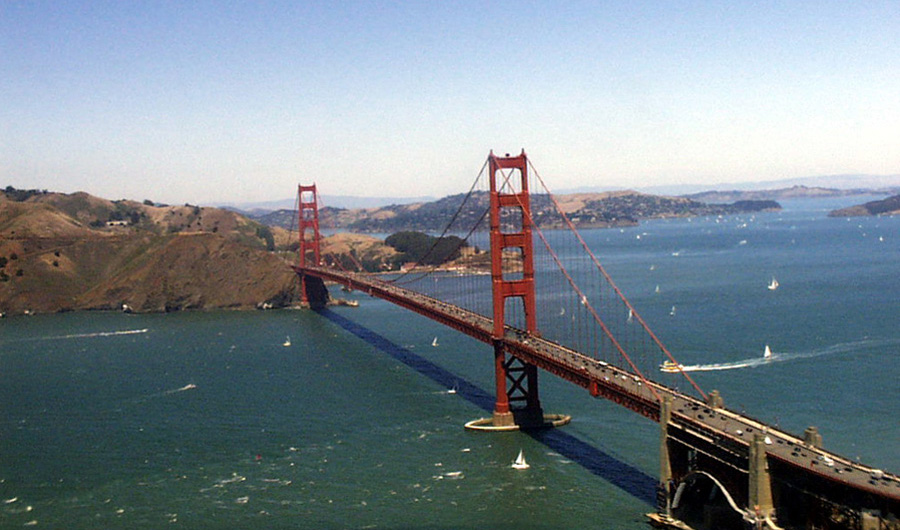 Golden Gate Bridge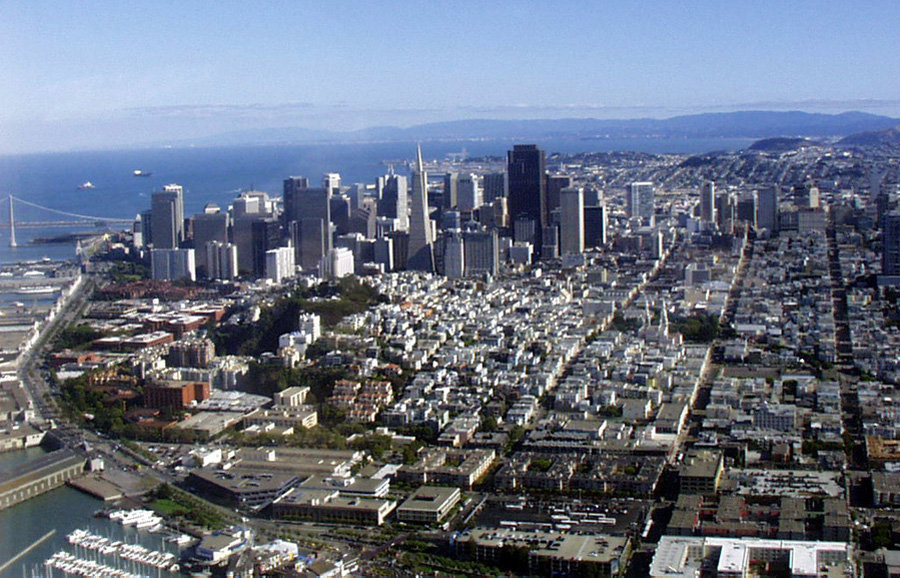 The City by the Bay
The flight took about 40 minutes. We went up the coast all the way to the Golden Gate Bridge, past downtown San Francisco and southbound straight to the airport. The folks at Signature SFO were ready, and guided us to a parking area where we could leave the helicopter for a few days. Security is air tight, so we were not concerned about parking the helicopter there for a few days. This was important because we were not scheduled to depart for Concord until Thursday afternoon.
The rental car was ready. They were nice enough to give us a full size car at the midsize price. A Ford Taurus was to be our trusty steed for the week. Plenty of room, adequate power, but the turning radius of the Queen Mary. It did, however, hold all the luggage. Imelda Marcos would have been proud. We drove from the airport, through downtown and finally back onto Highway 101 northbound, across the Golden Gate Bridge to Sausalito. This was to be the pampered luxury part of the trip. Karla should have a hotel finding business, as she always picks great ones. The Casa Madrona was to be no exception. It was a great room with a balcony overlooking the marina. What could be better?

Casa Madrona Hotel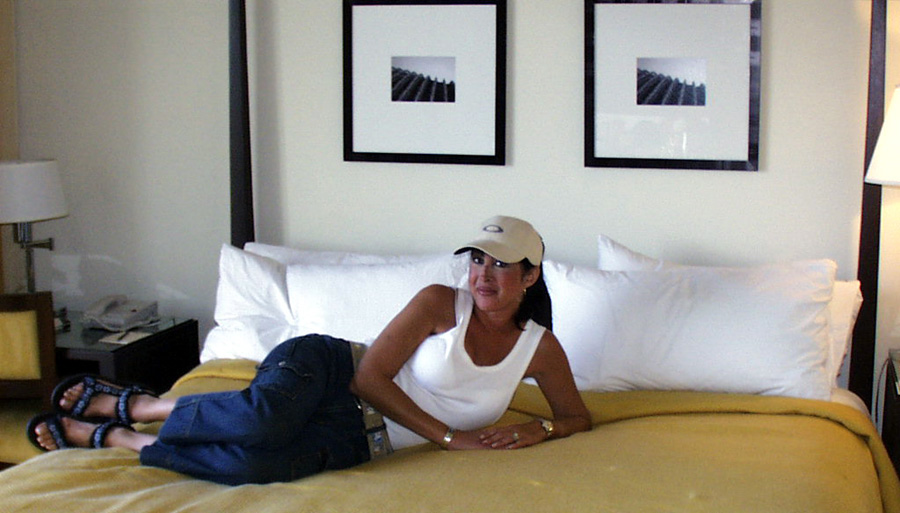 In The Lap of Luxury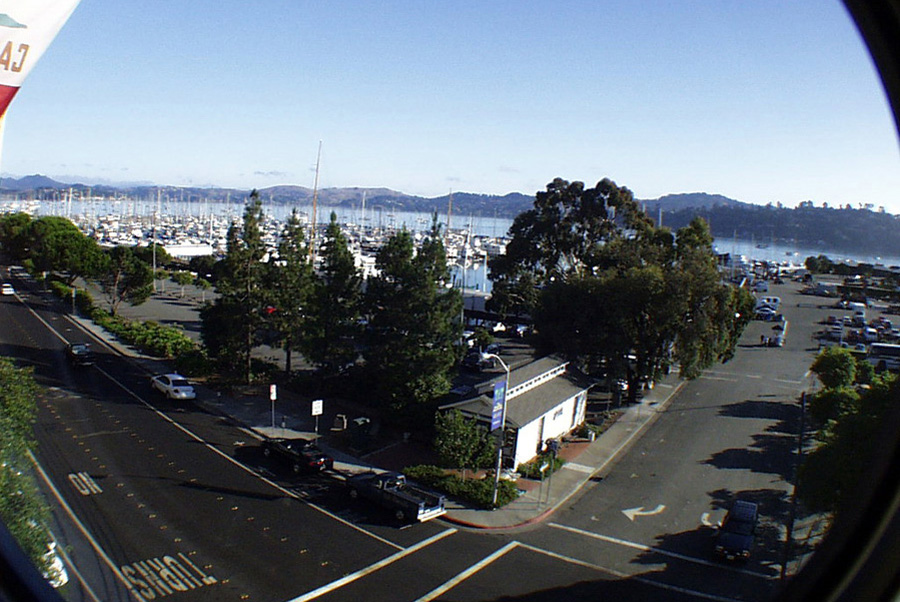 Sausalito Bay
Sausalito is a small town. They roll up the streets at about 9:00 PM. We did manage to find a nice place to eat, right on the water. By the time we finished eating, just about everything was closed for the night. After a short walk, we were back at the hotel. Karla and I spent the remainder of the evening on the balcony overlooking the bay. Then it was off to sleep in a sea of pillows on a very comfortable bed.
Tuesday, August 5
San Francisco was the objective of the day. We headed south across the Golden Gate into that maze of streets they call downtown. A short drive put us on Lombard Street at the famous "Mel's Diner", not just an imitation, but the real thing. The food was great, as was the service. From there, we began our tour of the city.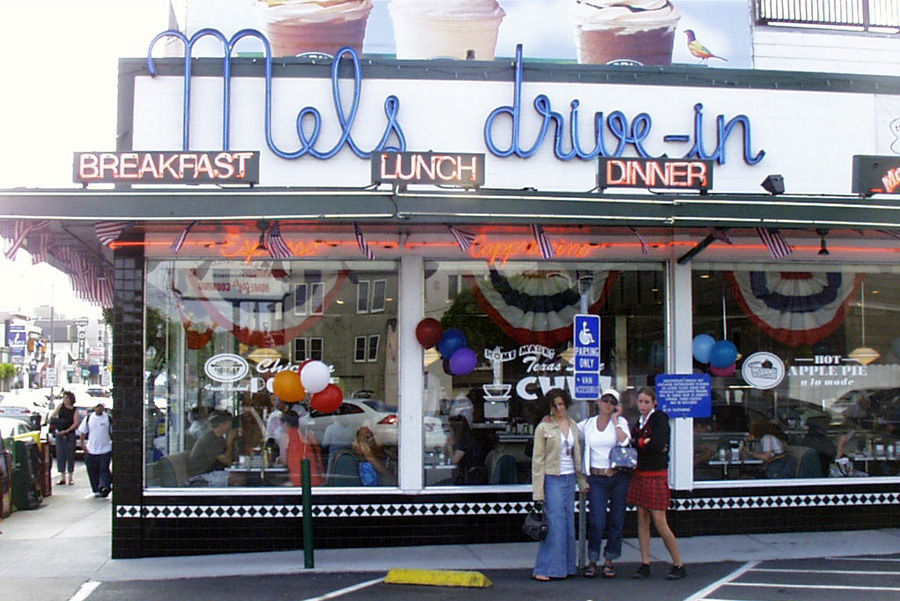 The famous "Mel's Diner"
Garadelli Square was a chocolate lovers heaven. I decided that as far as chocolate was concerned, my diet was suspended for the duration of this trip. I did not over do it, but did not miss out either. I figured that there would be plenty of time after the trip to get rid of a pound or two. After shedding 35 pounds during the past four months, I could lose a couple more after the vacation if the need were to arise.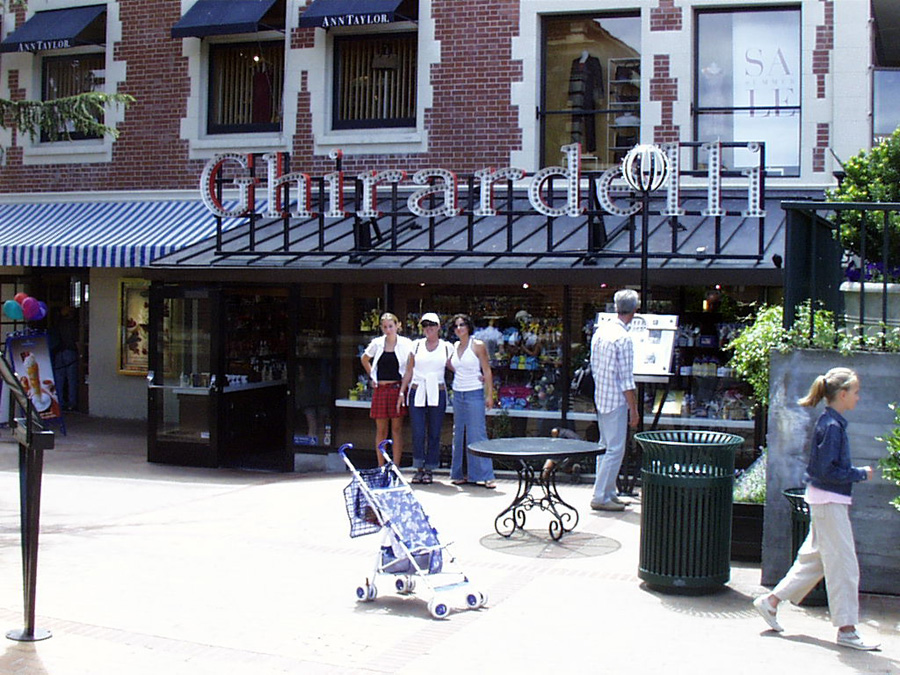 Ghirardelli's
For Gaby and I, Alcatraz was a must. We were told that all the tickets were sold out for a week. Karla, being the determined soul she is, did not take no for an answer. She went to the source and got some tickets, as there are always no shows, and this day was no exception. I am glad I made the tour. The boat ride over afforded us a great view of Fisherman's Wharf, downtown San Francisco, the Golden Gate Bridge, and of course, Alcatraz itself. It looked like quite a difficult place from which to escape.


Alcatraz
The accommodations were quite basic. A bed, a sink, and a toilet were all the comforts available to those who were guests of the federal government. The "hole", or solitary had only a floor, ceiling, and four walls. It was by design, a bad place to be!
Click Here for Alcatraz Photos Use the "Back" button on your browser to return to this page.
As far as food goes, Alioto's was the choice du jour. A trip to Fisherman's Warf would be incomplete without at least once eating at this restaurant, as it is a piece of San Francisco's history. Do you remember the Mayor of the same name?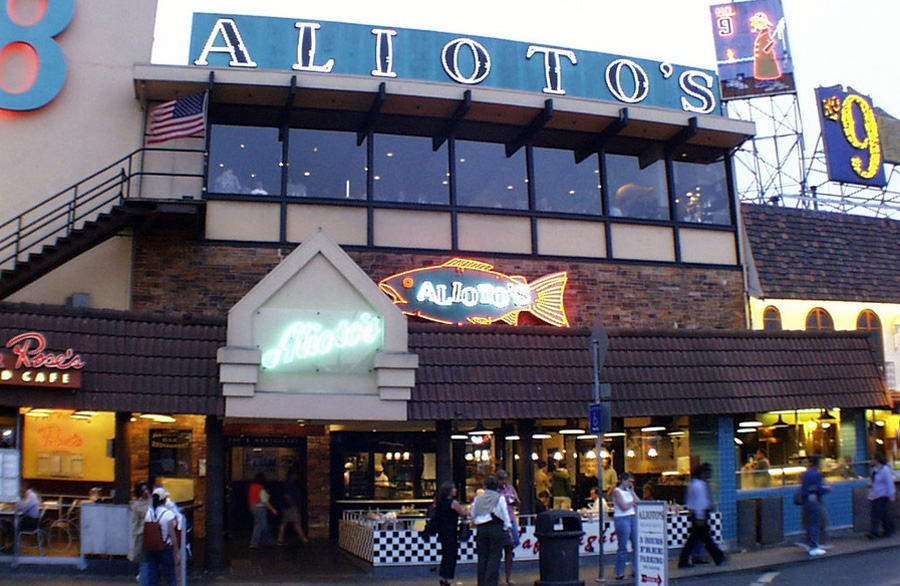 Alioto's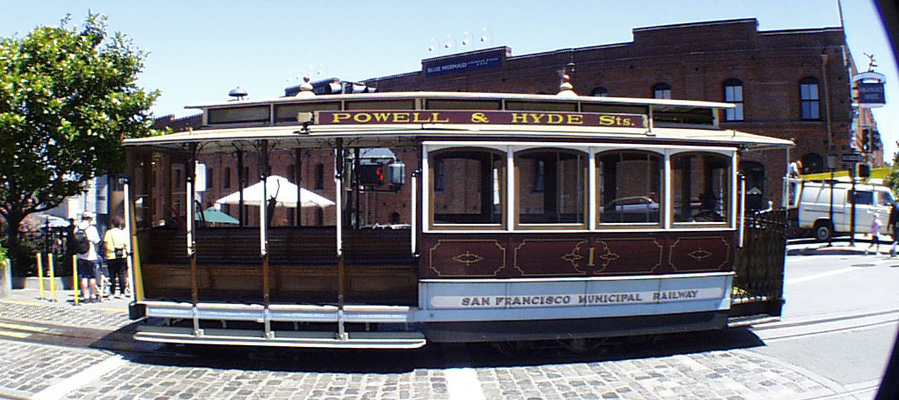 Famous Transportation in San Francisco
Wednesday, August 6
To wake up in Sausalito is not a bad thing. There was one problem that was common to all four of us. We were hungry. The family got into the habit of eating every day. We found a great solution nearby. The Winships Restaurant was to serve our breakfast needs not only this day, but the next. The food was really good!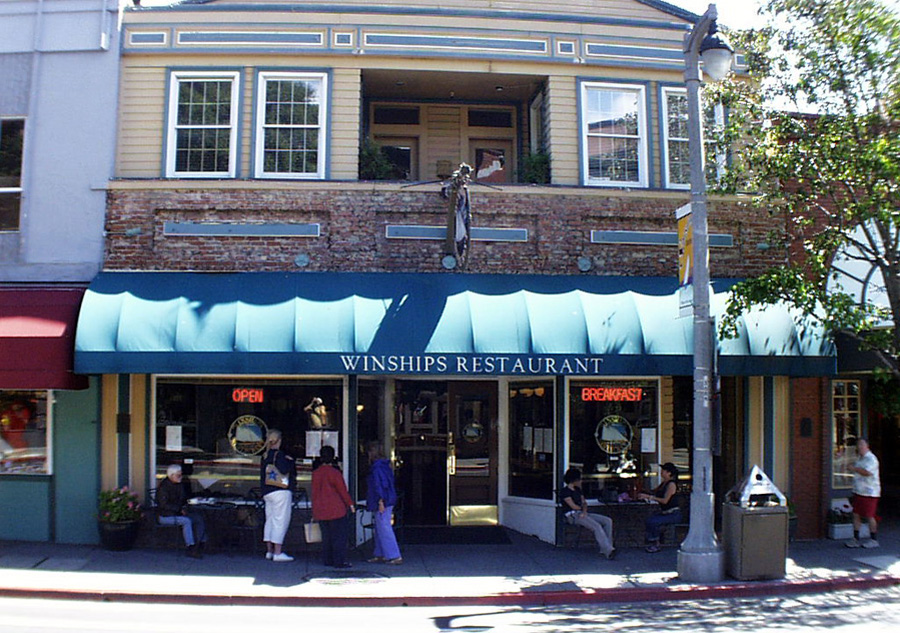 Windships Restaurant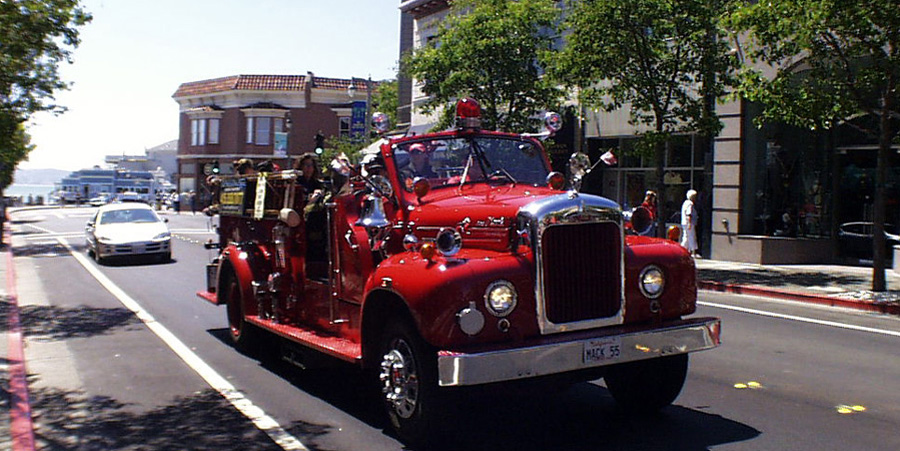 Rides on an Historic Fire Engine
Thursday, August 7
After another fine breakfast at the Windships, China Town was the next objective.. Karla and Alexa had been there while Gaby and I toured Alcatraz. Gaby wanted to see it, so off we went. With the maze of one way streets, finding it was a real slice of heaven. The parking attendant at the wharf was kind enough to give us directions. The maze of one way streets was a challenge, but we made it. Parking was to be the real test. Since I had no interest whatsoever in seeing China Town, I offered to circle the block during their expedition. We found a parking spot just in the nick of time.
There were no gun stores or hobby shops there, so I just took in the sights while the girls went from shop to shop doing whatever it is that girls do! I did take a few pictures just for the record. We knew that it might be a while until we ate again, so on the way out we decided to avail ourselves of some of the fine dining available in China Town. See the photo below. The bar is lowered a bit when you are desperate!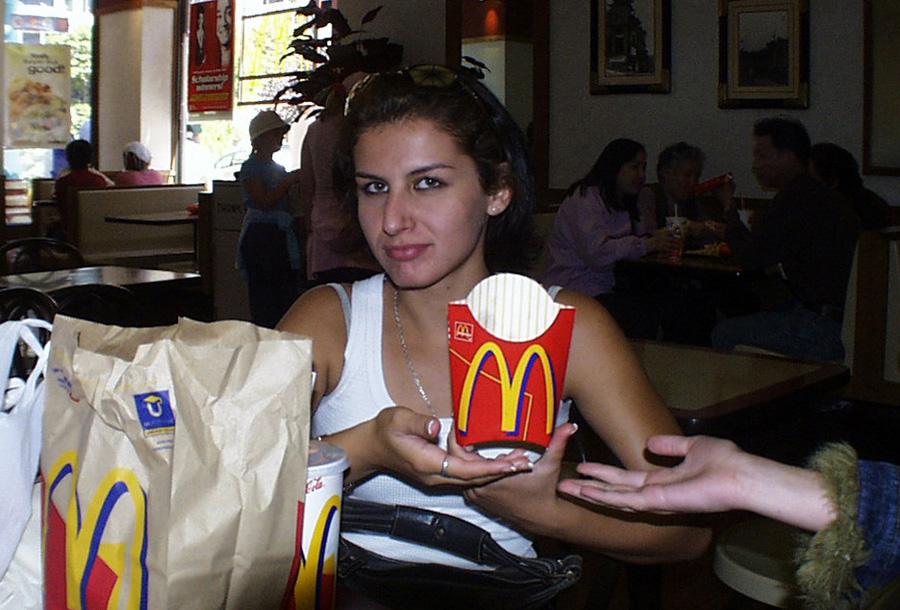 One of China Town's "Fine Dining" Establishments
When finished with our gourmet meal, we headed back to the car. Upon arrival, we found not one vehicle, but two, our rental car, and a tow truck in front of it. We were just in the nick of time. I opened the car door, as towing with people in the car is not legal. The Policewoman and the tow truck driver were very nice. The ticket was already written, there was no changing that, but the tow truck driver promptly unhooked the car and made a polite exit. The Police lady was very nice, explained the parking regulations to us, said sorry, hope you have a nice day. Both she and the tow truck driver acted like experienced diplomats. The whole thing was our fault anyway. Fifty bucks was cheap compared to retrieving the car after a tow. We lucked out.
Now it was on to San Francisco International Airport without delay, except to gas up the rental car that is. The folks at Signature SFO were very helpful with the car and the luggage. A splash of fuel as a courtesy ($$$), baggage compartment loaded, and we were ready to fire up and launch for our next destination. I was glad that UPS came to the rescue, sending home one of our suitcases from Monterey, and a few more bags from Sausalito. This left us with a full baggage compartment, but only one bag in the passenger compartment. This was much less than when the trip began.
We lit up the trusty Turbomeca, spun up the rotor system, and off we went. The tower controllers made operating the helicopter in and out of San Francisco quite easy. I did my homework before going in, and they did a great job. What more could you ask! We proceeded north along US 101, past the downtown area, the Golden Gate, a mile east of Sausalito before turning eastward for Concord Airport, or CCR as far as the GPS was concerned. About 20 minutes across the bay and over the foothills, and we were bearing down on the airport. I radioed the tower, "Concord Tower, Helicopter 1831A, 10 miles west for landing". They responded, "Helicopter 31A, say your type". I felt like saying, " A big Russian Jew with a mustache", but since I believed he was referring to the helicopter, I responded, "We are an SA341G". The tower said, "Oh, you mean a fast one don't you?" "Yes", I said. We crossed the runways at 500 feet, then made a left 270 degree descending turn, and we were on the ground. My friend Ken was there to meet us. He watched in awe as I unpacked the baggage compartment. When he saw the largest of our suitcases inside, he said it looked like "A Ship In A Bottle", and did not quite know how I got it in or out. In a moment, the secret was revealed. After a 20 minute ride, with a quick stop at the market, we were at Ken and Gina's house.
My next task was to cook dinner, as I had promised. After a bit of unpacking, I threw together my concoction of salmon, olive oil, seasoned pepper, garlic salt, and garlic power and threw them on the grill. Gina went out and got a couple more pieces of salmon just in case we ran short. When the eating was done, you could store the leftovers in a small change purse, so I guess everybody liked it.
Friday, August 8
The morning came early. Karla, Alexa, and Gaby got a little extra sleep, then met the kids brother Jason and his mom Kendal for lunch. Jason drove in from Truckee for a wedding. It was a nice twist of fate that he was there. They had not seen him in a while and were looking forward to it. Sometimes things just work out well. This was to be one of those times.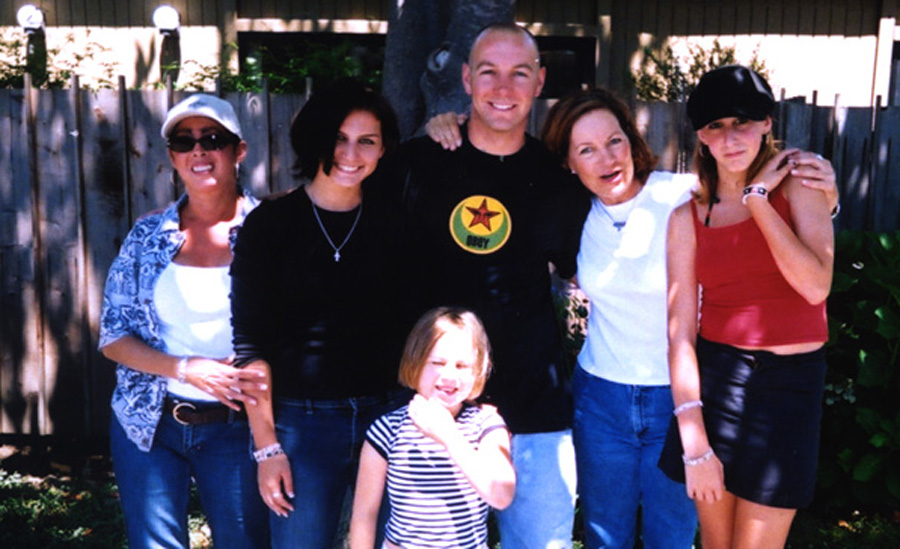 A Chance Reunion
Ken and I met a couple of Ken's friends at the airport, lit up the helicopter, and were off for the farm. John, one of Ken's pals, is a Delta Captain, as well as an old Army 10,000 hour rotor head. He had not flown a chopper in a while and was quite happy when it was suggested that he do the flying on the way over. He said he felt strange being this low over rivers and trees without taking fire from the bad guys, a snapshot of days gone by! Later today he would return to his day job, driving a Boeing 767, but for now, he was enjoying a rotary trip down memory lane. Helicopters have a way of staying in your blood! Soon we were on the ground, adjacent to the ski lake and the construction site for Ken and Gina's new home away from home.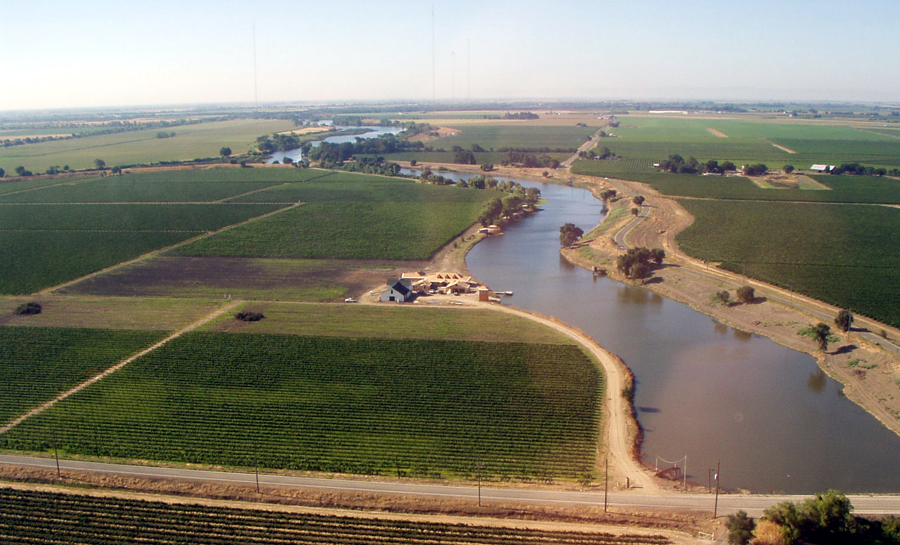 The Farm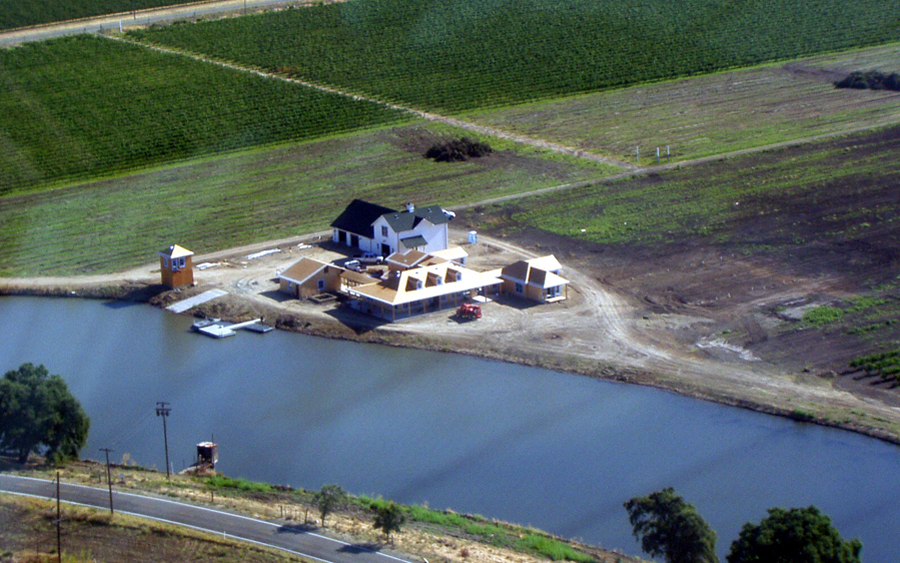 The Farm House
The helicopter was not even cool before the ski boat started to warm up. John and Ken delivered their standard excellent performances, then it was my turn. The only water skiing I had done since 1991, was a few rides on double trick skis with my friend Tom back in Orange County. As there were no trick skis available, I was given a "Big Easy", a slalom ski that is a bit wider than usual. This ski sacrifices maneuverability in favor of an easy pull up. They thought I was crazy, as I was cutting back and forth on this big wide plank.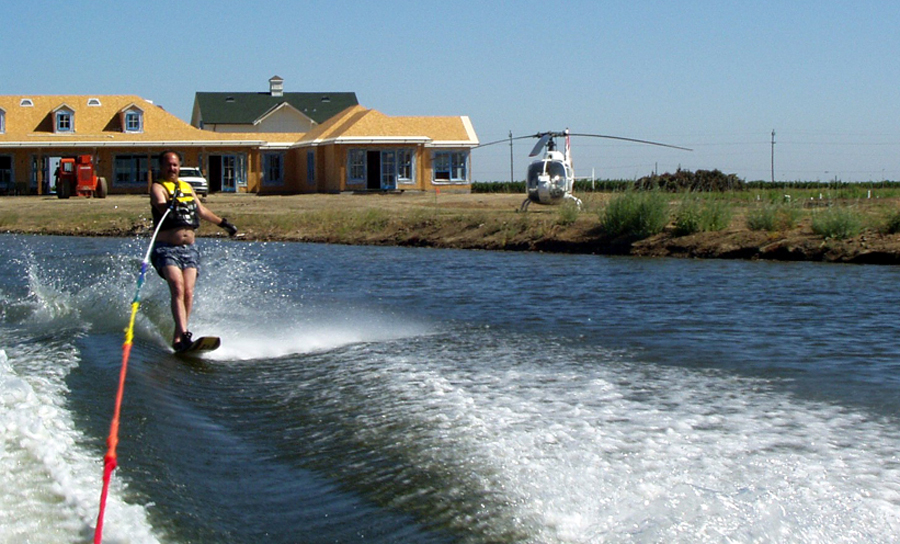 I Ain't done this since 91'
I had spent many years on a trick ski half the length and the same width, with no fin to give it any directional stability, so edging and cutting on this ski seemed quite natural to me. I made it all the way down to the end of the lake and back. The mind sometimes convinces the body to do things it really isn't in shape to do. This was the case, as I would find out half an hour later with all the muscles in my right lower back punishing me for abusing them as I had done. Oh well, you play, you pay. It was not enough to put me out of commission, but I knew that I had taken my one and only ski ride for the day.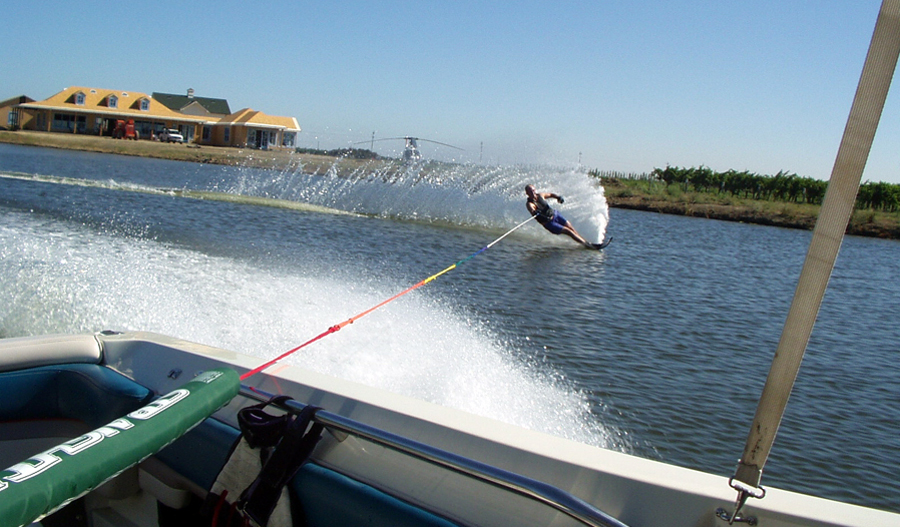 Ken is the real Pro
Naturally, everybody out there wanted a ride in toddy's new toy, and I was only too happy to oblige! Down the ski canal, a rapid climb at the end to miss the wires, a tour of the 1,000 acre farm, back down the canal just off the water, then a half climbing and half descending right 270 degree turn put me back on what we decided was our new helipad. I was to repeat this many times during the day, each just as much fun as the last. What a rush! Gentlemen, this is what you've been trained for, make us proud!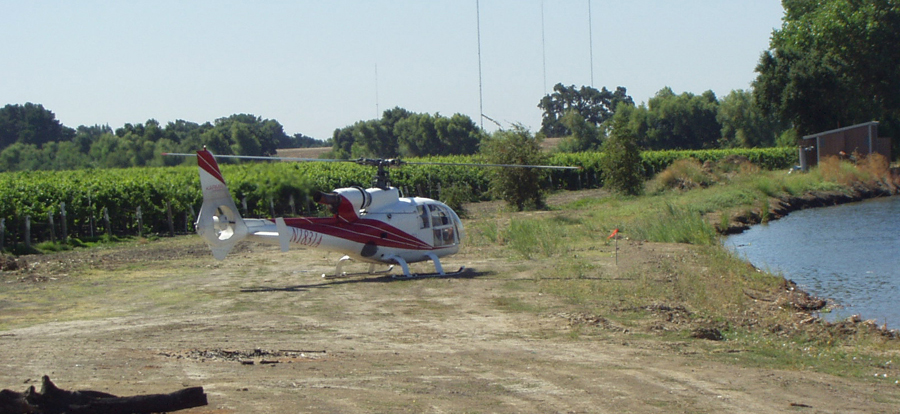 Spun Up and Ready to Launch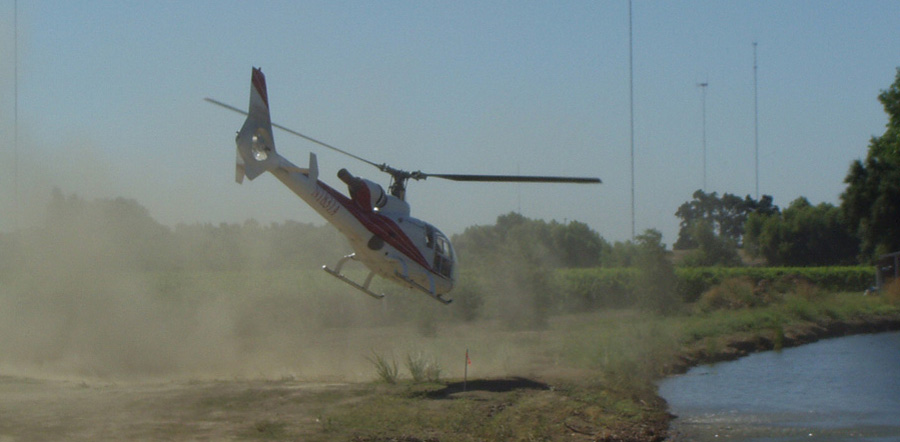 Spring Into Action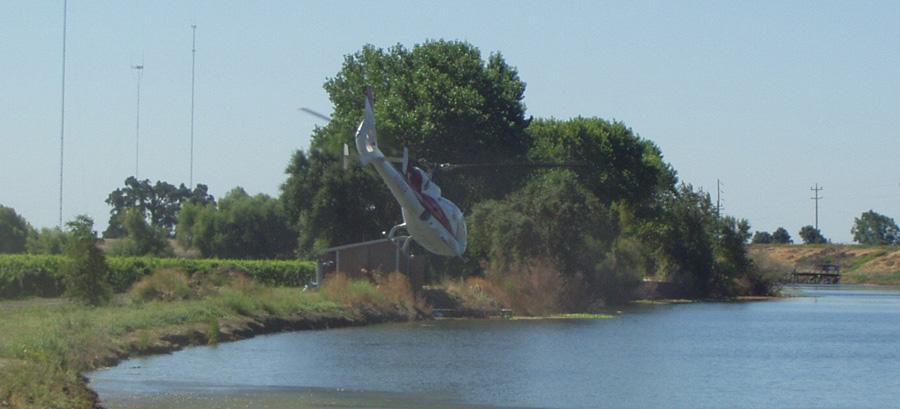 Full Afterburner

Low Level thru The Canal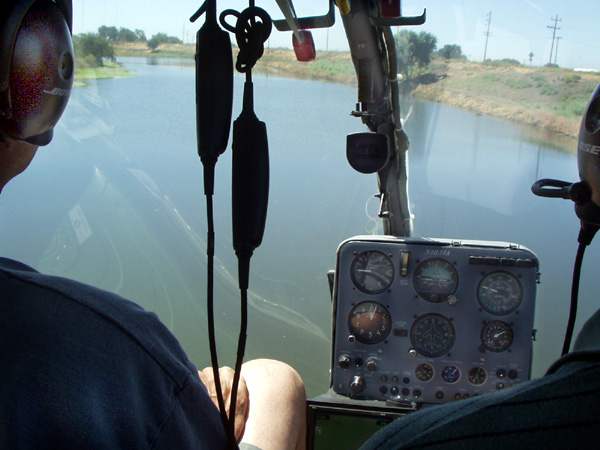 Headed for the Deck


On The Deck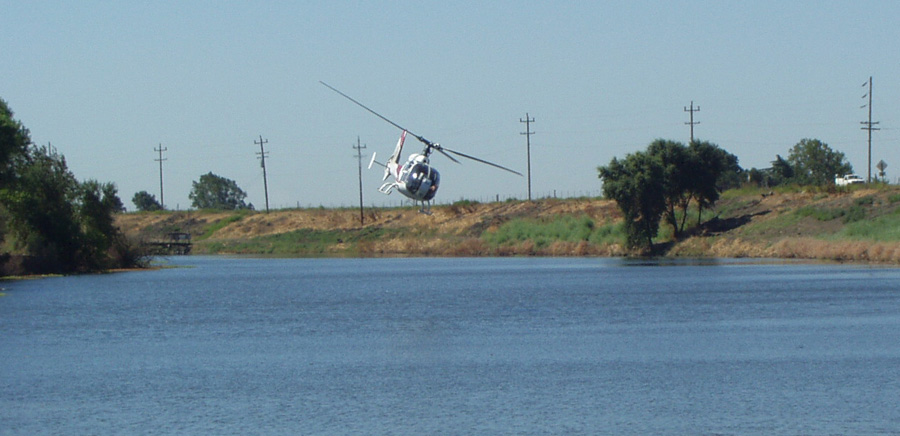 Well Goose, It's Time to Buzz The Tower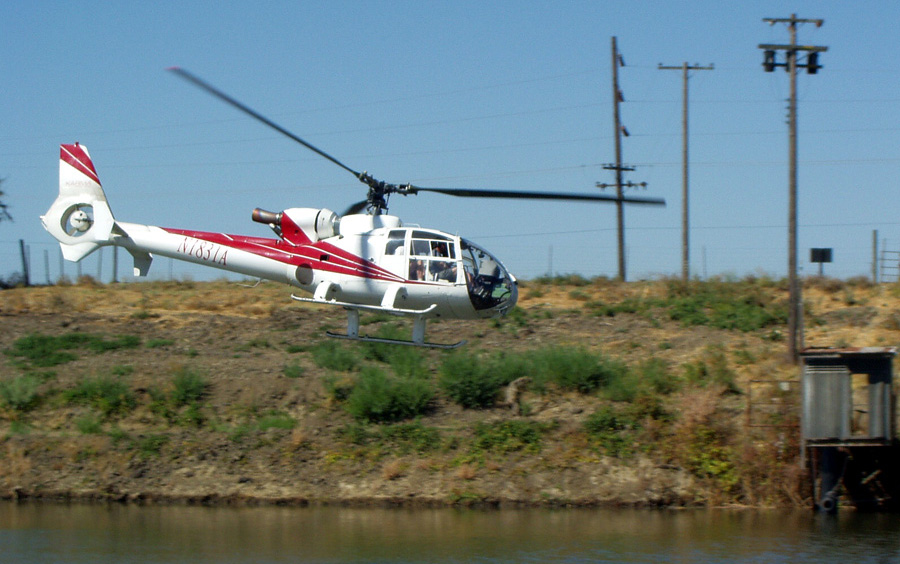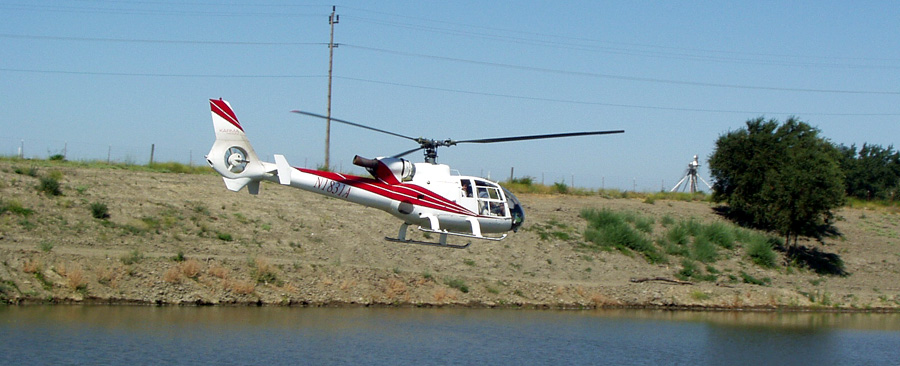 Having Too Much Fun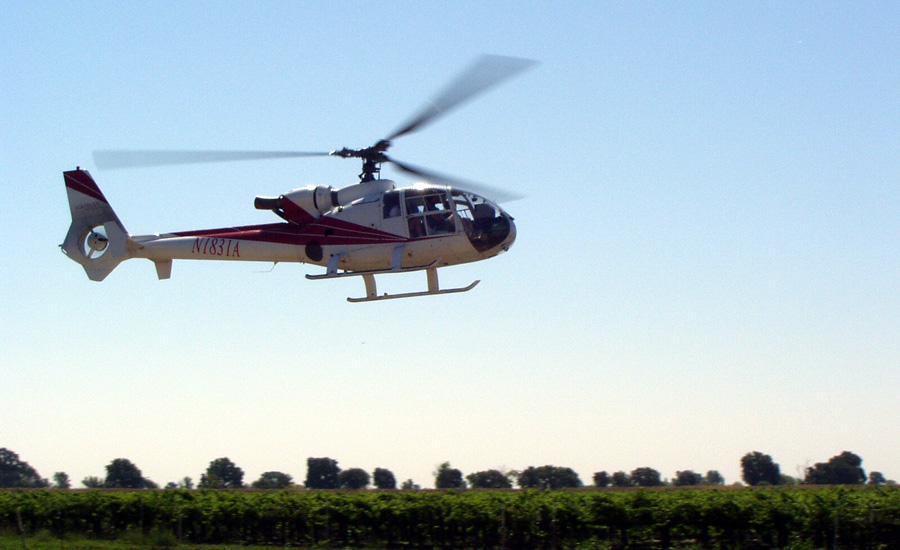 The Fly By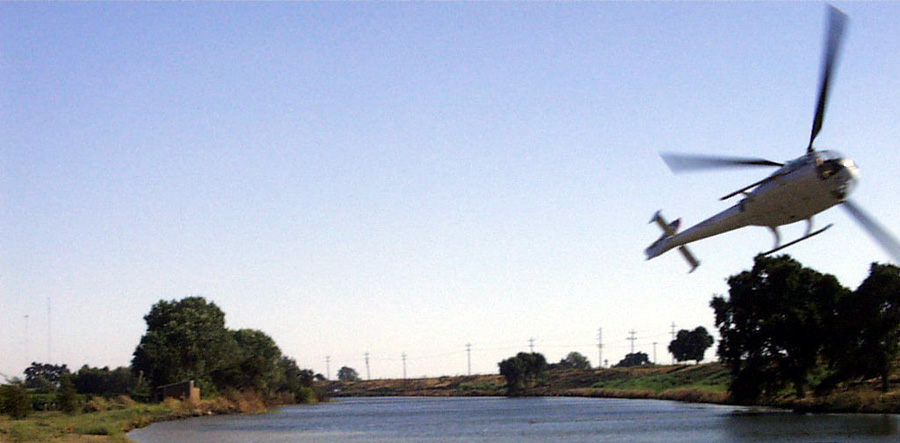 Now is a good time to Pull Up!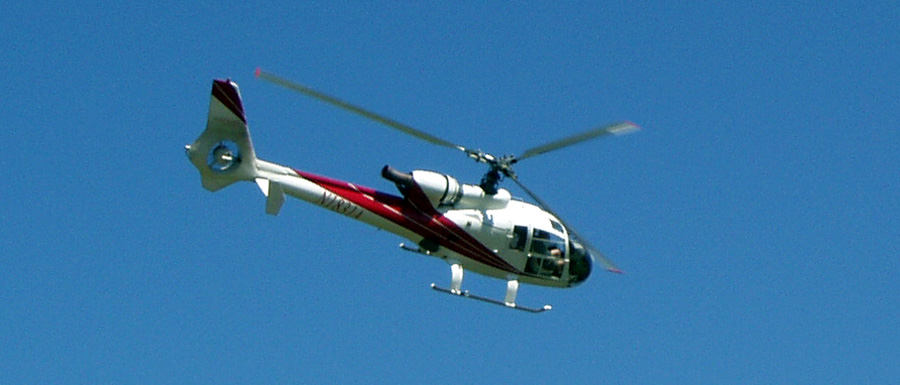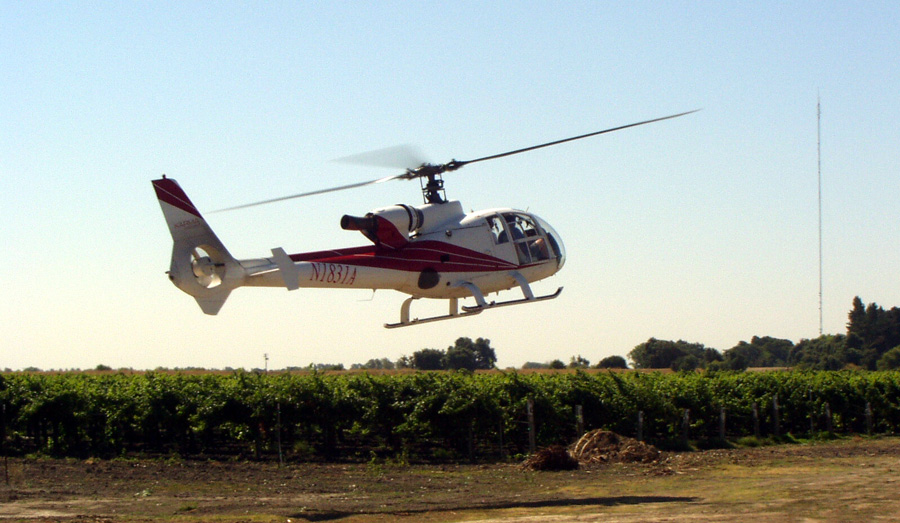 Back To Earth
Soon it was time to take two people back to CCR and fetch Karla and the kids. They did not come on the first trip because they were visiting their brother Jason, who happened to be in the area to go to a wedding. It was a nice coincidence, since they had not seen him for a while. I had John fly back, as I knew he was having entirely too much fun, and that's a good thing. It was obvious that he had not lost his love for helicopters, as he departed for his flight with a grin a mile wide.
We gave Jason and his daughter Chloe a ride out over the city, then back to the airport. They seemed to really enjoy it. Putting smiles on peoples faces is what life is all about anyway. We bid our farewells, strapped on the flying machine and headed for the farm.
Not wanting my lovely wife to die of a heart attack, I briefed her on the Saigon style banzai arrival procedure I had been doing on all the rides! She took a deep breath and said "OK, go ahead"! We entered the south end of the canal just north of the power lines, and after a hard right descending turn, we were in the center of the canal just off the water doing about 100 knots. Over the intercom, I heard things like WOW, AWESOME, COOL, and similar comments. These came from the back, while Karla remained silent. A couple of tight turns led us to the end of the water, about two miles from where we began the run. After the standard climbing and descending 270 degree turn, we were safely on the ground. I asked Karla how she liked the arrival, and she smiled and said it was fun. She adapted to the helicopter very well.
Ken is also a die hard helicopter lover. He and I took the Gazelle out for a while to terrorize the local area and make a few approaches to some phantom helipads. The fun meter was pegged once again. There are only a few pilots to whom I would entrust my family, and Ken is one of them. It did not take him long to get back into the swing of things. A good time was had by all.
After we ate and relaxed for a while, Gaby and Alexa tried their hand at water skiing. After that, they went tubing behind the ski boat, laughing and howling up and down the lake. They were obviously having a great time. They too would be a little sore from the activity. They were in no hurry to leave, but the clock and the setting sun had a different mandate.
After the toys were put away, the five of us piled into the whirlybird. With Ken at the controls, we launched for Concord leaving only a short ride, dinner, and the hot tub between us and a welcome nights sleep. Gina met us at Concord with the truck, as all of us could not fit into the Corvette. After loading up the truck with Karla and the kids, Ken and I headed for the Corvette. Ken tossed me the keys and said "It's your leg." Even though the traffic precluded any high performance driving on the way home, just being behind the controls of this machine reminded me of some of the most enjoyable driving I have ever done. On a previous visit, Ken gave me the privilege of taking his 99 Corvette through a winding canyon road in Moraga California. At one end of the canyon I rolled down the window to enjoy the sweet smell of hot tires and brake pads, made a U-turn and made the return trip with an equal degree of vigor! Ken said two things: "You are the only person I would let do this." and "Now I know how Gina feels." The Corvette impressed the hell out of me. I have driven some neat stuff during my three and a half years on the race track. This stock Chevy blows away many exotics that cost twice as much, and gets close to 30 miles per gallon to boot! Well, enough about cars.
Karla's eye began to bother her. We got some contact lens solution and washed out her eye. As the evening went on, it got worse. After a quick trip to the local drug store to get some contact lens solution, it was time for a brief interlude in the hot tub, then it was off to dreamland. She did manage to get some sleep, but would ultimately not make it back to Orange County without a brief visit to the doctor.
Saturday, August 9
In the morning, the eye was swollen and red. Karla was ready to tough it out and deal with it once we got home, but was over ruled by Gina and I. Gina found an Urgent Care facility in Walnut Creek, and we stopped there on the way to breakfast. It was Saturday morning, and I guess the local population was not yet able to injure themselves enough to require medical care. Karla was the only patient there, and was looked after without any waiting. The doctor was a very nice gentleman, and obviously very competent. He diagnosed and treated Karla's eye in short order, and explained the whole process to us as he went. He said there was no way she would have made it home without great pain and suffering, not to mention a worsening of the infection in her eye. It's one thing to tough it out when a little pain is involved, but when the eyes cry out for attention, give it to them now, which is what we did.
The Peppermill was the restaurant of choice. We had eaten at the one in Las Vegas before. The menu is vast and the food is great. After a nice lunch, Gina delivered us to the helicopter. We said our good byes, and began to load the baggage compartment. To everyone's amazement, including my own, I was able to get all the luggage to fit. A gnat could not have spread it's wings in there, but nothing was left behind. A small splash of fuel and we were once again churning up the air, this time, on our way home.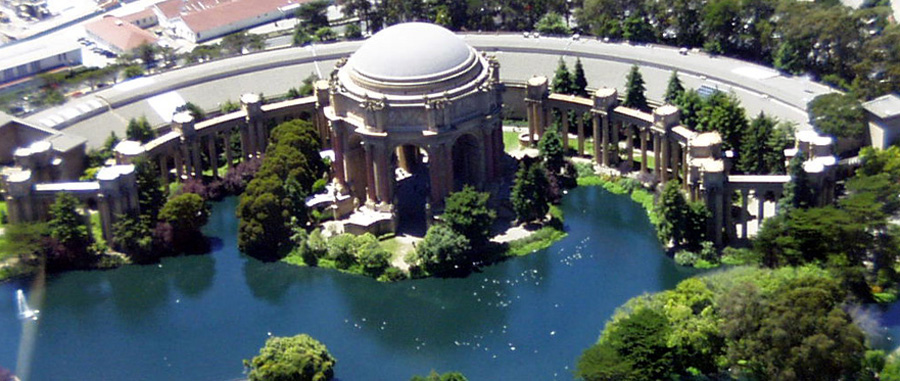 Palace of Fine Arts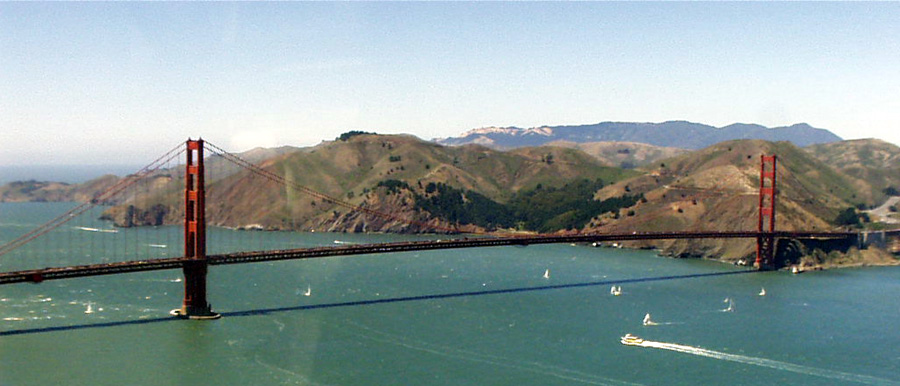 Golden Gate Bridge on the way Home
Rather than go straight down central California, we went just to the north of San Francisco, by the wharf and the Golden Gate Bridge, then south along the coast past Monterey. We proceeded down the coast at 2,000 feet, over San Luis Obispo and on into Santa Maria to refuel and have a nice dinner. There is a hotel, with a good restaurant right on the airport, only a short walk from the fuel shack. Can't beat that for convenience! With a nice dinner and a helicopter that was once again full of fuel, we embarked on the final leg of the family trip. Onward to Long Beach!
As we had seen more than enough coastline, we opted to take the inland route until we were about 10 miles northeast of Santa Barbara. The flight over the mountains was great, with only a few bumps from the wind. After traveling along the coast to Oxnard, we crossed Point Magu then proceeded east, on the coast once again. It was during this portion of the flight that we were at the highest altitude. I don't know why, but it always wierds me out being above 1,000 feet or so in a helicopter. They just seem most natural at 500 feet and below. There is no logical reason for this, but I have talked to others who feel as I do.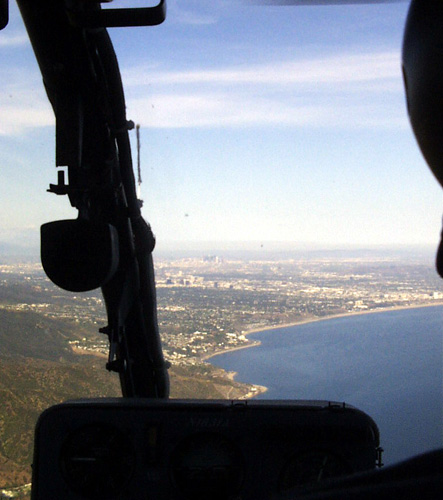 A View from the Cockpit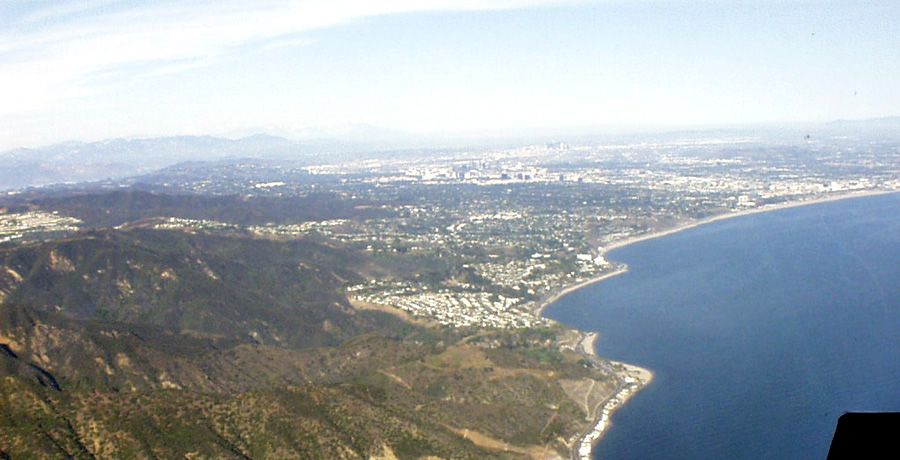 Almost Home
Soon I was in contact with LA Approach Control. I told them that I would like to transit the class B airspace. They asked if I wanted to go high or low. Low is a lot more fun. They handed me off to Santa Monica Tower. Santa Monica in turn told me to contact LA Tower on 119.8 mhz. It took a minute to establish contact with LA, so I made a 360 degree turn. The L.A. Tower cleared me to transit the Class B airspace at or below 150 feet just offshore. Oh well, lets peg the fun meter once again. We all enjoyed the heck out of that. The beach at 120 knots low level is a hard act to follow. Before very long it was time to go back up to 500 feet and head for Long Beach via the West Wardlow Arrival. From the center of the airport, we crossed runway 25 Left at 500 feet, then made a left 270 degree descending turn to the ramp at Millionair at Aeroplex. We picked up one suitcase that UPS delivered, (the other did not arrive until Monday), transferred the bags from the Gazelle to the Trooper and the girls were on their way home. I had one more leg to fly.
With the family safely on the way home, I fired up the Gazelle for the trip back to Chino, where it lives at the moment. My friend Brian was there working on his Gazelle. He helped me put it in the hangar, and also provided a battery charger for the BMW that was just a volt or two short of starting after being abandoned for a week. I think a new battery is in order, as the car is more than 5 years old. After about an hour on the road, I was home again. We were all tired but happy. I guess that's what vacations are all about. As vacations go, this was one that will never be forgotten.
A couple of weeks has passed since this high adventure. This trip, and the helicopter have been a frequent topic of conversation within our family. Karla and the kids admitted that they all thought I was nuts when I first brought up the idea of a "Helicopter Vacation". Now they are sold on the idea, and would go again at the drop of a hat! As a matter of fact, Karla asked, "Could we go somewhere in the helicopter for the day?" We decided to go to Big Bear. It is up in the mountains, about a two hour drive from where we live. Karla says the helicopter is like being "Peter Pan" and flying over the buildings. Monday, August 25th, Karla and I will launch for one last adventure before this wonderful machine goes away. Helicopters enable you to do a special kind of flying that no other aircraft can duplicate. I have not had so much fun since I flew the F-104 Starfighter, and that says a lot, as it was a hard act to follow.




A brief Political Statement
Our family has adopted a policy. We like to spend our vacation budget in the good old US of A. Our economy needs our support. I have, in conjunction with my profession, seen much of the world over the years. The more I see elsewhare, the more I appreciate the things in our own country. The United States need not play second fiddle to any place on the planet as a vacation spot, or in any other way. We live in the greatest country the world has ever known. Take the time to see and enjoy it. You will be glad you did.